Hot Air Balloon Safari in the Serengeti
Take a Hot Air Balloon Safari above the renowned Serengeti National Park to take in its beautiful panoramas and surroundings.
Safari itineraries that involve at least two nights in central Serengeti or Western Corridor Camps can easily include an adventure like a Serengeti hot air balloon trip.
You take off at first light, rising with the sun, and floating wherever the morning breezes carry us.
TRAVEL CALENDAR
At 6:30 a.m., Serengeti Balloon Safari begins. When you get there, you'll meet the pilot and see how they prepare your balloon for launch and inflate it. You will board your balloon and take off following a detailed safety briefing and demonstration of the boarding and landing positions.
The return at 9:30 a.m. enables guests to continue with other scheduled activities for the rest of the day. The itinerary has been intended to fit in with all conventional safari itineraries visiting the Serengeti National Park.
A flight of one balloon can accommodate up to 16 passengers. Reservations are needed because there are only two balloon flights per day. As a result, you can receive a panoramic view of the enormous Serengeti Plain and shoot pictures.
$530.00 PER PERSON
INCLUDE
Transfer to the launching point from your lodging.
Flight on a balloon (around an hour).
On landing, toast with champagne.
Breakfast in the wilderness with all the fixings.
Certificate of Commemoration.
Following a Trip
We form strong relationships with our clients throughout the entire process. We adore collaborating with you and taking part in your climbing/safari adventures.
Additionally, we truly appreciate your feedback on our experience, on everything from the cuisine to the tour guides to how we can get better.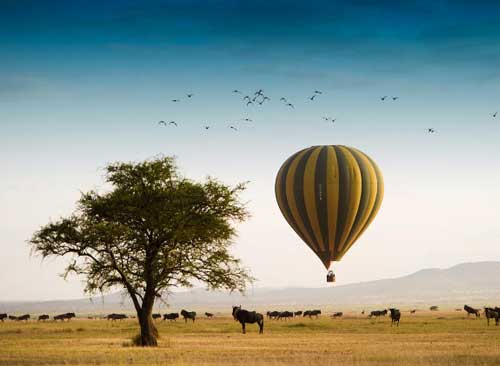 Book Your Tailor Made Tour.